The very simplest working telephone would look like this inside.
As you can see, it only contains three parts and they are all simple: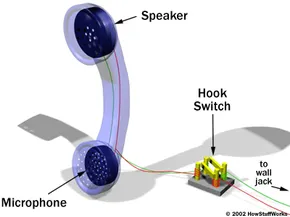 A switch to connect and disconnect the phone from the network - This switch is generally called the hook switch. It connects when you lift the handset.
A speaker - This is generally a little 50-cent, 8-ohm speaker of some sort.
A microphone - In the past, telephone microphones have been as simple as carbon granules compressed between two thin metal plates. Sound waves from your voice compress and decompress the granules, changing the resistance of the granules and modulating the current flowing through the microphone.
That's it! You can dial this simple phone by rapidly tapping the hook switch -- all telephone switches still recognize "pulse dialing." If you pick the phone up and rapidly tap the switch hook four times, the phone company's switch will understand that you have dialed a "4."
The only problem with the phone shown above is that when you talk, you will hear your voice through the speaker.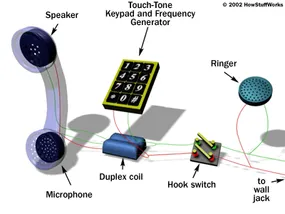 A "real" telephone
Most people find that annoying, so any "real" phone contains a device called a duplex coil or something functionally equivalent to block the sound of your own voice from reaching your ear. A modern telephone also includes a bell so it can ring and a touch-tone keypad and frequency generator. A "real" phone looks like this.
Still, it's pretty simple. In a modern phone there is an electronic microphone, amplifier and circuit to replace the carbon granules and loading coil. The mechanical bell is often replaced by a speaker and a circuit to generate a pleasant ringing tone. 
Yuyao Xianglong Communication Industrial Co., Ltd.
SINIWO products are of international quality system certification authority, safety system certification, so that customers get a greater quality and safety in use.
A leading manufacturer of Industrial telephone equipment for 17 years in China
Founded in 2005, is a production and sales of outdoor phone accessories and machine-based manufacturing company.
Advanced equipment, modern production line, make the accessories products reached 3,000pcs.
More than 90% component of products made by the company own production.
ISO9001 quality system certification, CE certification, all kinds of test report.
More than 95% of products are exported to North America, Western Europe, Southeast Asia and other regions.